User Database

A unified database for all your people tracking needs.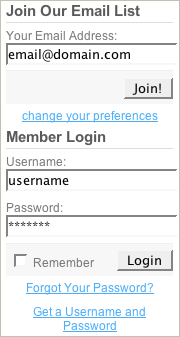 Web Based Database of People

Having your contact database online enables you to simplify the management of your databases and enable rich interaction with your contacts through your Markup Factory website. Markup Factory comes with a built in contact database that provide unified logins with all of the rich functionality happening on your website.
A central database for all people related to your organization
Relationally links people to: Purchases, Events, Subscriptions, Member Directory, Memberships
Member directory function
Import and Export

The Markup Factory system makes it easy to import and export from the user database. You can export your entire database for use in a mail merge or creation of a member directory.
Integration with Other Modules
Every Markup Factory account comes with the user database module. Many other Markup Factory functions leverage the user database including the Email Newsletter Engine, Protected Member Content, Database, Blogs, Online Registrations, and more.
The User Database is included with every Markup Factory package. You can store unlimited contacts in your user database. Email newsletter subscription levels are based off of the number of contacts in your database.