Blogging
A flexible blogging engine for business or pleasure.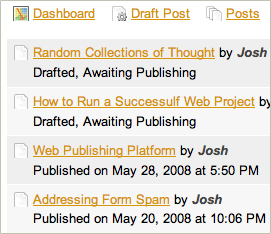 Flexibility and Simplicity

The Markup Factory blogging engine provides the ability to produce a blog based website, or simply attach a simple blog off to the side. All of the basic features you would expect are on board including an easy to use web based interface, automated RSS feeds, and Akismet comment form spam protection.
Comment Spam Blocking
Categorize Posts
Automated RSS Feed
Customizable Display
Fully customize the display and configuration of your blog posts. Show latest posts on the home page or side bar from a specified category, etc.
Community Blogging
The Markup Factory allows multiple users to make posts to the blog. Each post will be attributed to the user who created the blog post.
Profile
How Humboldt Hospital Uses The Blog

Humboldt Hospital uses the Markup Factory blog system to post hospital news, employee announcements, and employee memos. Markup Factory offers a multi category blogging system that allows designers to display multiple news feeds throughout different sections of the website.
You can purchase a commercial account on the Markup Factory Blog in a stand alone capacity or as part of a package subscription.