Online Event Registrations

Take RSVPs and Online Registrations for all your events.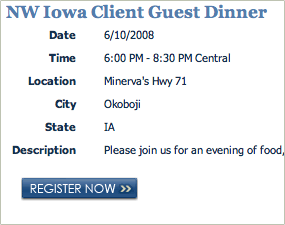 Enable Registrations for Any Event

This popular online event registrations system enables you to take online registrations for any event in your online calendar. Registrations can be as simple as an RSVP yes or no to a complex online registration form that captures online payments and sends out automated email reminders.
Take online event registrations
Customizable registration forms
Flexible online payment options
Quick RSVPs
Automated email reminders for attendees
Mini Event Management System

The Markup Factory Online Event Registration System is used by a organizations throughout the world ranging from trainers, to universities, to private firms. Markup Factory subscribers use the system to take registrations for client appreciation dinners, conferences, training classes, and retreats. Built-in tools allow event administrators to track registration progress, email notify attendees, and export attendee lists.
Profile
How Foster Group Uses Online Registrations

Foster Group, a financial planning and investment advisory firm, uses Markup Factory online registrations to allow clients to RSVP for client outings and appreciation dinners. Clients register for these events right on the Foster Group website so that staff can know how many will attend.