An Overview of Markup Factory

Revolutionary Web Publishing Platform.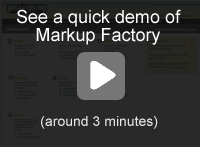 A fresh approach to web publishing.

Markup Factory is a new kind of Content Management System (or CMS) called a Web Publishing Platform, designed to help people use their talents and abilities to build and manage websites more effectively. If you are a web designer, you will use Markup Factory to build a powerful web presence for your organization or client. Website managers will leverage an easy to use tool set to publish content and interact with website visitors. Getting started with Markup Factory easily fits right into your existing work flow:
Sign up: Create a Markup Factory Account
Design and Code: Create a website template (see example) as you normally would

Upload: Add your XHTML / CSS into Markup Factory

Add Functionality: Leverage functions and modules to easily add customized functionality to your website
Manage and Update: Use a friendly and powerful set of tools to update and interact with your audience

You can learn more about the different plans by visiting our packages overview page.
Native Rich Functionality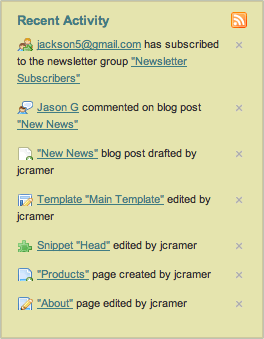 The other unique component to Markup Factory is that it provides a powerful set of web applications ready to deploy with minimal effort. If you want to deploy dynamic of data driven functionality on your website, most of the heavy lifting is already done for you so that you can focus on the implementation. You can learn more about this functionality as you continue your way through this tour and learn about the following functionality built-in to Markup Factory:
Markup Factory also lets you monitor activity from all of the modules on your website through a central Activity Feed or via RSS.
Design Partners

We are committed to supporting the web design and development community. We actively refer organizations to our design partners and are in need of web design agencies that are interested in building websites on the Markup Factory Web Publishing Platform. We believe that there is no substitute for a talented web designer when building a great website. That's why we've designed Markup Factory with the flexibility and freedom to design your website any way you like it. If you are interested in becoming a Markup Factory design partner, please contact us today!