Podcast Engine
Publish your Audio and Video in a Podcast.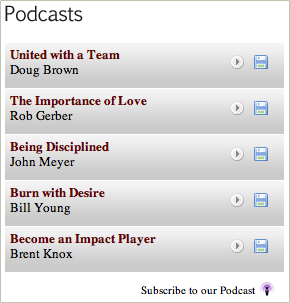 Easy to Start

Markup Factory provides an intuitive podcasting interface that allows you to quickly and easily publish one or more podcasts on your website.
Easily Publish and Maintain Video or Audio Podcasts
Automatic RSS Feeds
iTunes Compatible
If you can record audio files, all that is required to publish the podcast is to upload your audio files through an intuitive web based interface. No FTP uploading or coding is required.
Website Integration

In addition to making your audio and video content available through your podcast, you can allow visitors to download media files through searchable web pages on your website.
You can also show the latest episodes to your podcast in a list on your homepage or elsewhere on your website.
Signup for the Markup Factory Podcast Engine as a stand alone service or better yet, as an integrated part of your Markup Factory website.