Email Newsletter Engine
A built-in email newsletter system for your website.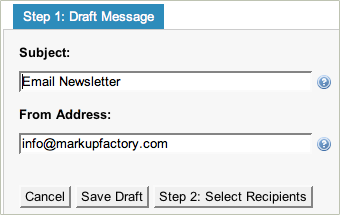 Simple Email Newsletters
The Markup Factory email newsletter system is simple. It's pre-integrated in with your website and contact database and ready to go at the drop of a hat.
Newsletter Template Engine
Multiple templates allow you to customize your messages to each group you send to
Subscriber Lists
Using the built-in Markup Factory groups system and contact database, you can create multiple newsletter lists and allow individuals to subscribe or unsubscribe themselves for your mailing lists
Delivery Tracking
Track the delivery success rate for your mailings on a per-subscriber basis
Built for Small Organizations
The Markup Factory email newsletter system is built for small organizations who want to get the word out without a fuss. If you anticipate 10,000 or less mailings per month, this system is ideal for you. Maybe someday, we'll offer a full out mass email marketing system, but for now, if you want an email newsletter system that is integrated into your CMS and member management website, this is your choice.
Signup for the Markup Factory Email Newsletter Engine as a stand alone service or better yet, as an integrated part of your Markup Factory website.