Calendar
A simple event database for event driven organizations.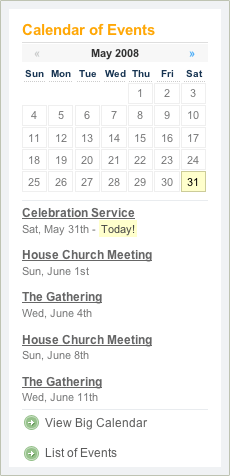 Publish an Online Calendar
The Markup Factory calendar component allows you to publish a dynamic online calendar of events integrated into your website. Manage your events using a simple intuitive online interface and show upcoming events in a variety of formats throughout your website.
Easy to Manage

Events Stored in a Database
Customizable Style Output
Advanced Features
This is not your average web calendar. The Markup Factory Calendar is truly an events engine and includes many advanced and unique features including:
Online event registrations / RSVP
Volunteer Management & Self Scheduling
Multiple calendar divisions and topics
Email reminders for events
Google Calendar integration
List view
Full calendar view
Display upcoming events on your Home Page
And more...
The Markup Factory calendar system is a proven event management system that has been deployed on hundreds of websites ranging from universities to small business and non profit organizations.
The calendar system comes bundled with the online registrations package and starts at just $30 / month.