Files (Assets)
Overview of Files
The Files section is the place to manage all of the files that make up your website. This includes images, videos, audio files, CSS files, etc.
Files are stored in the /assets/handle directory, where "handle" is your unique installation handle name that you specified during the setup of your account. By default, all of your files will be available at:
http://www.yourdomain.com/assets/handle/filename.ext.
You can also setup an alias to this folder to make your files available at another location. For instance, you might setup and alias called "images" for your files folder to make all your files available at:
http://www.yourdomain.com/images/*.*
You can setup an alias for your files in the Options page within the files module or within the System Settings pages.
Each Markup Factory account includes an allocated storage space limit, which you can upgrade if necessary. This file space limit is applied to any actual files that you upload and does not include pages, blog posts, calendar events, or any other content items that you create through other modules.
Adding Files to Your Website
In order to make files available for viewing or downloading by website visitors, you'll need to get them uploaded to the Markup Factory servers. There are several ways to do this including:
THE FILES MODULE
Upload forms are available by clicking the "upload file" or "bulk upload" buttons in the "Files" section of your administration area. You can upload multiple files at one time by uploading a zip file full of your files in the bulk upload form.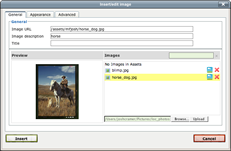 AS NEEDED WHILE EDITING
You can also upload files on an as needed basis while editing your content. The insert image and insert link buttons in the WYSIWYG editor allow you to select files from the existing list or upload new files on the fly.
SFTP (ADVANCED USERS)
Advanced users may prefer to have SFTP access to their file repositories. This can make development and uploading of additional files much easier for some. If you require an SFTP account, please request this via email to support@markupfactory.com.
Editing Files
Markup Factory makes it easy to edit files directly online without having to download and re-upload the files. Depending on the type of file you wish to edit, there are several ways that you can edit files in Markup Factory:
Text Based Files
To edit text based files such as .XML, .TXT, .CSS, or others:
Visit the "Files" section of your administration area
Find the file you wish to edit
Click the "edit" button next to the file
When you are finished making changes to the file, click "OK" or "apply" to save the changes